The Krotons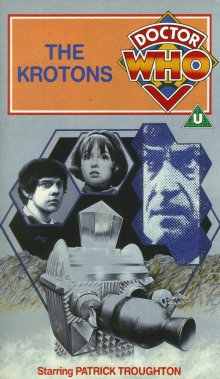 First transmitted December 28th 1968 - January 18th 1969

Written By Robert Holmes
As the Tardis door opens onto a barren planet, the Doctor steps straight into a struggle to destroy the merciless Krotons, the unseen rulers of the Gond People. Conditioned to obey by teaching machines the Gonds put up no resistance until, with the Doctor's Help, they discover exactly what has been happening to their best students.
Battling agianst the Krotons' vast scientific knowledge the Docotr and Zoe must stop them turning mental power into pure energy. With a brave band of Gonds and Jamie, prepared to fight to the end, it may be defeat for the Krotons, but ultimately it will be a test of knowledge that only Doctor Who can match
---
This is a fast-paced action story, with little cerebral activity. The dialogue is crisp and there are some nice comedy moments. -'Atomic laser? is that better than an axe?'.
---
Back To The Episode Guide